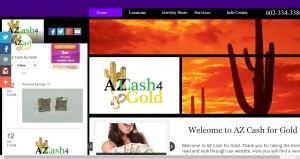 AZ Cash for Gold address, phone, website, hours of operation, and more.
Message from the owner:
I believe that an informed decision is one of confidence and one that leaves us happy! And above all I want you to be happy. That's why our motto is "Cash for a Happy life"
I want my business to serve you, and the community. I want to help as many people as I can. I have set up a free information center on this website; just follow the links above to get there. By reading the information on this site you will become informed and educated. Most companies don't want you to become informed; I am not serving them, I am here for you. Because once you know how this works, you can truly appreciate our service.
Here you will also receive the absolute best total experience in the industry. Our friendly staff will explain everything they do so when you walk out you'll not only have received a great payout but also a wonderful and informative experience. There is never any pressure or obligation to sell your items if you're not ready. Out of the all of the customers we service, a huge 40% are either referrals or repeat customers.
You'll get a great deal, friendly service, and you'll be helping Arizona's local business community grow and provide new jobs to the valley. AZ Cash for Gold is an easy and hassle -free solution to selling your unwanted jewelry and scrap gold. Our store is an easy way to personally sell your gold and get paid on the spot right away.
Address: 17470 N. Pacesetter Way, Scottsdale, AZ 85255
Phone: (602) 809-0931
Website: http://az-cash4gold.com
Email: customerservice@azcash4gold.com
Hours: Mon – Sun 10:00 am – 7:00 pm