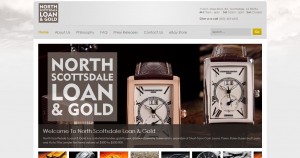 North Scottsdale Loan & Gold address, phone, website, hours of operation, and more.
North Scottsdale Loan & Gold is the premier pawn shop in North Scottsdale. We buy and loan on anything of value. Whether you have gold, silver, platinum, jewelry, diamonds, coins, fine watches, stereos, speakers, iPod, iPhone, computers, or musical instruments, we take take it all! Our professional staff is determined to give you the most cash for all of your valuables. In addition to buying and giving loans, we also have high-end merchandise for sale in our showroom. We have jewelry, Rolex and other fine watches, Apple computers, guitars, stereo systems, and more. We always get new inventory in, so feel free to stop by and browse our showroom for discounted prices.
We are also able to give auto title loans where you would use your title as collateral for a loan. We give title loans on cars, motorcycles, RVs, ATVs, boats, tractors, jet-skis, and anything else you could think of.
We specialize in buying and loaning on gold, silver, platinum, and jewelry. We pay the most CASH FOR GOLD.
We have over 20 years experience of buying, selling and loaning on all kinds of valuables. We have the experience, knowledge, and cash to make you want to come back and see us because you know you will be getting the most money for your items. If you are looking to pawn or sell gold, silver, jewelry, or any other item, stop by our store for a free quote.
Address: 7126 E. Shea Blvd. Suite A, Scottsdale, AZ 85254
Phone: (480) 443-4653
Website: http://www.northscottsdaleloan.com
Email: alfonso.larriva@northscottsdaleloan.com
Hours:
Mon – Fri 9:00 am – 6:00 pm
Sat 10:00 am – 5:00 pm
Sun Closed