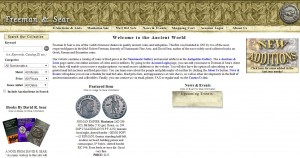 Freeman and Sear address, phone, website, and more.
Freeman and Sear is one of the world's foremost dealers in quality ancient coins and antiquities. The firm was founded in 1993 by two of the most respected figures in the field: Robert Freeman, formerly of Numismatic Fine Arts; and David Sear, author of the most widely used collector books on Greek, Roman and Byzantine coins.
Our website contains a catalog of coins at fixed prices in the Numismatic Gallery and ancient artifacts in the Antiquities Gallery. The e-Auctions & Lists page carries our online auctions of coins and/or artifacts. By going to the Account Login page, you can add your name to Freeman & Sear's client list, which will enable you to receive regular updates via email on new additions to the website. You will also have the option of subscribing to our printed mail bid auctions and fixed price lists. You can learn more about the people and philosophy of our firm by clicking the About Us button. News & Events will update you on our schedule for mail bid sales, fixed price lists, and appearances at coin shows, as well as other developments in the field of ancient numismatics and collectibles.
Address: PO Box 641352, Los Angeles, CA 90064
Phones: (310) 450-9755
Fax: (310) 450-8865
Website: http://freemanandsear.com
Email: info@freemanandsear.com