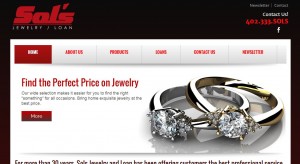 Sol's Jewelry and Loan address, phone, website, hours of operation, and more.
For more than 30 years, Sol's Jewelry and Loan has been offering customers the best professional service in the loan industry. With the first location founded in 1980, Sol's has expanded their business to 5 different locations across the metro area.
Sol's is here to serve you as a family owned and operated business, promising to meet each customer's needs and offer quality products at bargain prices. Contact any of our 5 locations to speak with one of our pawn brokers and we promise to exceed your expectations.
Address: 2505 S 120th St, Omaha, NE 68144
Phone: (402) 334-8776
Website: http://www.solsjewelryandloan.net
Email: info@solsjewelryandloan.net
Hours:
Mon – Fri 9:00 am – 7:00 pm
Sat 9:00 am – 4:00 pm