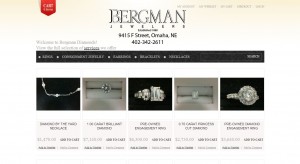 Bergman Jewelers address, phone, website, hours of operation, and more. The Bergman story begins in 1884 with a 21 year old young man being sent by his employer Hammel Riglander Company, a large importer of wholesale jewelry and watch parts in New York City to a small Midwestern town of Omaha, Nebraska.
That man, Sol Bergman, was assigned the task of helping the Max Meyer Company of Omaha sell a $10,000 consignment of watch materials that Meyer had purchased from Riglander.
What Sol became aware of was that he liked Omaha; its business potential and its people. They were honest and hearty people who possessed a candor that made him feel pleasantly at ease when compared to the hustle and bustle of New York City.
Sol Bergman seized the opportunity to buy what would become Bergman Jewelers. With Omaha as their home the legacy has continued with Sol's son Clarence who started as a salesman when he was 18-years-old as well as his son-in-law, Stewart Gilinsky. That same year, the Bergman Company began wholesaling jewelry, diamonds, watches, and other jewelry store merchandise to Midwestern retailers. Stewart Gilinsky's son Larry joined the company in 1961, and today is president.
Address: 9415 F St, Omaha, NE 68127
Phone: (402) 819-4491
Website: http://www.bergmandiamonds.com
Email: larry@bergmandiamonds.com
Hours:
Mon Closed
Tue – Fri 9:30 am – 5:00 pm
Sat 10:00 am – 3:00 pm
Sun Closed