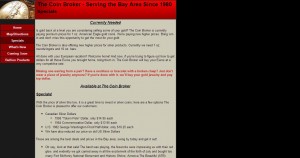 The Coin Broker address, phone, website, and more.
Is gold back at a level you are considering selling some of your gold? The Coin Broker is currently paying premium prices for 1 oz. American Eagle gold coins. We're paying new higher prices. Bring 'em in and don't miss this opportunity to get the most for your gold.
The Coin Broker is also offering new higher prices for silver products. Currently we need 1 oz. rounds/ingots and 10 oz. bars.
All done with your European vacation? Welcome home! And now, if you're trying to figure out how to get dollars for all those Euros you brought home, bring them in; The Coin Broker will buy your Euros at a very competitive rate.
Address: 91 El Camino Real, Palo Alto, CA 94301
Phone: (650) 323-8101
Website: http://www.coinbrokerpaloalto.com