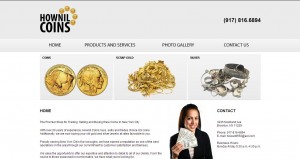 Hownil Coins address, phone, website, and more. The Premier Shop for Trading, Selling and Buying Rare Coins in New York City
With over 20 years of experience, Hownil Coins buys, sells and trades choice US coins. Additionally, we are now buying your old gold and silver jewelry at rates favorable to you.
Proudly serving New York City's five boroughs, we have earned a reputation as one of the best operations in the area through our commitment to customer satisfaction and fairness.
We value the opportunity to offer our expertise and attention to detail to all of our clients. From the novice to those seasoned in numismatics, we have what you're looking for.
If you need a coin to add to your collection, please send us an E-Mail with the coin needed, the grade you want and the price and we will make every attempt possible to fullfill your request.
Address: 3236 Nostrand Ave, Brooklyn, NY 11229
Phone: (917) 816-6894
Website: http://www.hownilcoins.com
Email: howardl550@aol.com
Accreditation:
ANA Member
NGC Authorized Dealer