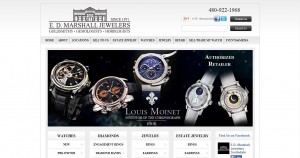 ED Marshall Jewelers address, phone, website, and more. Custom jewelry design experts since 1971, ED Marshall Jewelers is the right place to bring your old jewelry or loose gemstones to be made anew. Whether you have rubies, sapphires, emeralds, tanzanite, diamonds orother gems to work with, our in-house designers, Barbara and Antje, are here to share their combined 45 years of jewelry sales and design experience with you.
All work is done on the premises by our talented designers and master craftsmen, from design and drawings, to CAD/CAM wax models, to working the raw material of gold, platinum or silver into the unique design you created. World class quality and manufacturing is at your fingertips when you visit ED Marshall Jewelers in Scottsdale, AZ.
Our design team here at ED Marshall Jewelers has the expertise to deal with any design challenge. What started as a teenage passion, our jewelry designers have developed into their calling, to the great benefit of our valued, worldwide clientele. They understand what it takes to give you the best look while staying within your budget.
It all starts with an in-store consultation at which Barbara or Antje will help you define your style and give you the confidence to make the best decision. They understand that custom designing is a very exciting process. With the help of visual aids such as a three-dimensional sketch and a wax model representation of your new treasure, they will work with you to remove any uncertainty about your design choice, and provide an estimate upfront.
Address: 990 E Riggs Rd Ste 2, Chandler, AZ 85249
Phone: (480) 895-5007
Website: http://edmarshalljewelers.com