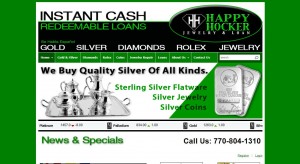 Happy Hocker Jewelry & Loan address, phone, website, hours of operation, and more.
For more than 24 years, our shop has been the place to buy, sell, loan and repair jewelry in Atlanta, Alpharetta, Marietta and the surrounding area. Whether you want to sell gold, pawn jewelry, find a Rolex or diamond rings at great prices or have your jewelry repaired, we offer professional service to meet your needs.
If you need cash, you can pawn or sell your unwanted gold and silver jewelry, coins, and diamond jewelry at Happy Hocker Jewelry & Loan. We buy gold at better prices than the large out of state refiners you see advertised on television. When you come to us, we weigh and test the purity of the gold and make a cash offer on the spot. In addition to old scrap gold, we buy jewelry, gold coins, silver, diamond jewelry, fine watches and more.
In addition to jewelry buying service, we have a great selection of jewelry for sale. We offer the lowest prices for new and pre-owned jewelry, diamond jewelry, loose diamonds, fine watches, and more. Our inventory is constantly changing, so visit our Atlanta pawn shop to find the best deals for high quality jewelry.
We offer full service jewelry repair for your jewelry and watch repair service from jewelry repair professionals and a master watchmaker. For more than 24 years, we have provided quality jewelry repair, jewelry refinishing, diamond mounting, ring sizing, jewelry restoration, and more. Bring the item you need repaired in for a free estimate.
If you want to pawn jewelry, sell gold, buy diamonds or have a watch repaired, please browse our website to learn more about us and the services we provide to our customers in Marietta, Atlanta, Alpharetta and the surrounding area. Visit our shop for great service for all your jewelry needs.
Address: 7293 Roswell Rd NE, Atlanta, GA 30328
Phone: (770) 804-1310
Fax: (770) 804-0746
Website: http://www.happyhockerpawn.com
Email: info@happyhockerpawn.com
Hours:
Mon – Fri 9:30 am – 6:00 pm
Sat 9:30 am – 5:00 pm