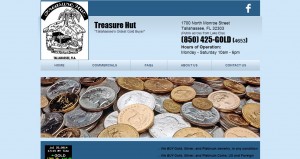 Treasure Hut address, phone, website, hours of operation, and more. Treasure Hut is a locally owned and operated secondhand dealer. We had our beginnings here in Tallahassee in the 1970s under then-owner Tom Tinney. Lori Tinney has since taken over her father's business here in Tallahassee, and we are proud to be the oldest gold and silver buyer in Tallahassee.
​
Treasure Hut's friendly and honest staff will be glad to give you a free estimate on whatever valuables you bring in, with no obligation. We buy gold, silver and platinum jewelry in any condition – this includes single earrings, broken chains, or rings with missing stones. We also purchase gold, silver, and platinum coins from the United States, foreign countries, and private mints, as well as sterling silver flatware and service sets, even if pieces are missing and it has wear.
Treasure Hut also offers expert jewelry repair and custom jewelry design. Whether you need a broken chain soldered, a ring sized, or if you want a custom piece for yourself or as a gift, our expert jeweler will be happy to help make your items like new or offer guidance in creating something beautiful.
Address: 1700 N Monroe St, Tallahassee, FL 32303
Phone: (850) 425-4653
Website: http://www.thankstreasurehut.com
Email: thankstreasurehut@gmail.com
Hours:
Mon – Sat 10:00 am – 6:00 pm
Sun Closed