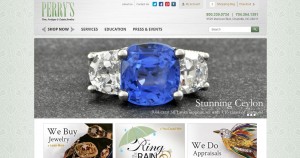 Perry's address, phone, website, hours of operation, and more.
Welcome to Perry's Fine, Antique & Estate Jewelry! We have been in business in the Charlotte area for 35 years and during that time we have established ourselves as one of the nation's finest antique and estate jewelers.
Ernest Perry, our owner and president, has nearly 40 years' experience and expertise in fine, antique and estate jewelry. He is also deeply involved in local civic activities and carries with him the reputation as a fine auctioneer. He is known as a jeweler's jeweler and other jewelers frequently come to him to authenticate and/or appraise an item.
We buy, sell, and trade vintage, antique and estate jewelry, gold, coins, diamonds, silver, platinum, and so much more. Additionally, we have more than a dozen appraisers on staff including 12 GIA Graduate Gemologists, a coin expert, and a personal property appraiser to accurately evaluate and appraise your jewelry, coins and household items.  We also offer on-site jewelry repair and custom design services.  No other jewelry store or gold dealer in the area has a staff as qualified and experienced as Perry's.
Address: 6525 Morrison Blvd, Charlotte, NC 28211
Phone: (704) 812-5629
Website: http://www.perrysjewelry.com
Email: eliza@perrysjewelry.com
Hours:
Mon – Wed 10:00 am – 6:00 pm
Thu 10:00 am – 7:00 pm
Fri – Sat 10:00 am – 6:00 pm
Sun Closed