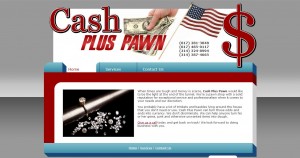 Cash Plus Pawn address, phone, website, hours of operation, and more.
When times are tough and money is scarce, Cash Plus Pawn would like to be the light at the end of the tunnel. We're a pawn shop with a solid reputation for exceptional service and professionalism when it comes to your needs and our discretion.
You probably have a lot of trinkets and baubles lying around the house that you don't need or use. Cash Plus Pawn can turn those odds and ends into currency. We don't discriminate. We can help anyone turn his or her gems, junk and otherwise unwanted items into dough. Call Cash Plus Pawn and let us evaluate your objects. We can help you put a price on your items, passing you some much-needed cash in exchange. If you have further questions regarding anything we have to offer, please feel free to contact us today. We are happy to assist in any way we can. We look forward to introducing you to the professionalism and integrity that our name has come to stand for.
Address: 5980 Rufe Snow Dr, Fort Worth, TX 76148
Phone: (817) 485-0117
Website: http://www.cashpluspawn.net
Hours:
Mon – Fri 9:00 am – 9:00 pm
Sat – Sun 9:00 am – 7:00 pm