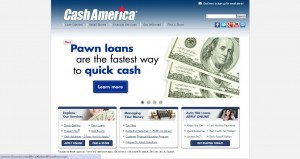 Cash America address, phone, website, and more.
Cash America International, Inc. provides specialty financial services to individuals in the United States and Mexico with more than 900 locations. We are the largest provider of secured non-recourse loans, commonly referred to as pawn loans, and operate under the brand names Cash America Pawn, SuperPawn and Cash America casa de empeño.
We also offer short-term cash advances in many of our locations, including almost 200 stores that offer this service under the brand names Cash America Payday Advance and Cashland. Short-term cash advances are offered over the Internet to customers in the United States, the United Kingdom, Australia and Canada through Enova Financial, our online subsidiary, and its brands www.cashnetusa.com, www.quickquid.co.uk, www.dollarsdirect.com.au and www.dollarsdirect.ca, respectively. In addition, check-cashing services are provided through our franchised and company-ownedMr. Payroll check-cashing centers.
Address: 2133 E Magnolia Ave, Knoxville, TN 37917
Phone: (865) 522-5320
Website: http://www.cashamerica.com