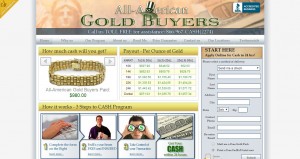 All-American Gold Buyers address, phone, website, and more.
All-American Gold Buyers is the most profitable, easy, secure, risk and worry-free method to sell gold. But don't just take our word for it, here is why: at All-American Gold Buyers, not only do we pay top dollar to those wishing to sell scrap gold, unwanted or broken jewelry, coins, and more; but we offer the Price Guarantee Policy like no other in the industry. Our Price Guarantee Policy ensures that you get top dollar for your items and it virtually eliminates the risk associated with the "When" question. Along with our top price and world gold price volatility protection policy, our revolutionary approach introduces an additional feature that is never adopted by our competitors. While our competitors simply promise transparency, we actually deliver it. Why should you just rely on anybody's marketing rhetoric, when you can actually have full control of your gold selling experience? When you sell gold to us, you have that full control. This truly sets us apart from our competitors when you are considering the "Who" question.
Our revolutionary "3 Steps to CASH Program" is designed to provide you – our valued Customer, not only with an easy and secure way to sell your scrap gold, but it also gives you full control over your transaction. The importance of this fact cannot be overstated. If you are looking for the most profitable and transparent way to sell gold online, All-American Gold Buyers is the place like no other. While other companies simply ask you to rely on their honesty, at All-American Gold Buyerswe demonstrate it. With a simple click of a button, we'll actually take you inside our lab to witness the evaluation and appraisal process.
Address: 279 Central Ave, Jersey City, NJ 07307
Phone: (201) 659-2274
Website: http://www.allamericangoldbuyers.com