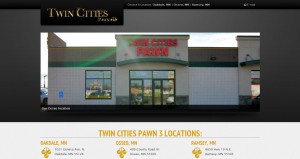 Twin Cities Pawn address, phone, website, hours of operation, and more. Twin Cities Pawn is committed to providing our customers with quality merchandise, low prices, and great service. We also provide fast, friendly, and confidential cash loans with on-the-spot cash! We understand that customers want to be treated with respect and professionalism. Most people have heard of pawn shops, but many have ideas and images that are less than accurate on just what a pawn shop is and what we offer.
The short definition – we offer a short term loan based on the collateral that you pledge. No credit check, no wait for approval by the loan officer, just fast cast! When you have a loan to buy your home, you pledge the home as collateral in the event that you don't or can't pay back the loan. If you don't pay your loan back, your home becomes the property of the bank. We operate in the same fashion. You bring in an item to pledge for a loan, you leave the item with us, and we give you cash and a receipt to bring back. Most people pick up their collateral and repay the loan. If they don't, we sell the items to recover our investment.
Hollywood has long portrayed pawn shops as being dark, sleazy operations, just full of stolen property and shady characters. Nothing could be further from the truth! We are in fact, a combination 'Lending Institution' much the same as your bank, and discount retail/jewelry/tool store, only with the BEST prices in town. Feel free to bring your entire family in to shop! We work very closely with law enforcement at all levels to ensure that the material that we take in is legally owned and offered.
So why should you shop or get a loan at Twin Cities Pawn? Simply put, to get the best possible deal around on the finest of merchandise from our friendly, well trained and educated staff and at the best possible price and terms!
Address: 1021 Geneva Ave N, Saint Paul, MN 55128
Phone: (651) 730-7296
Website: http://www.twincitiespawn.com
Hours:
Mon – Thu 10:00 am – 8:00 pm
Fri 10:00 am – 7:00 pm
Sat 10:00 am – 6:00 pm
Sun 12:00 pm – 5:00 pm