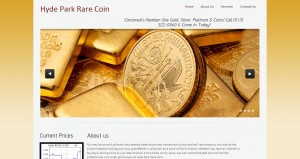 Hyde Park Rare Coin address, phone, website, hours of operation, and more. You may be an avid collector who attends trade shows and conventions to buy and sell rare pieces or you may be the simple hobbyist looking over your grandfather's collection as a piece of family history. Whether you have an interest in buying or selling coins or just want to know a Cincinnati coin's value, you can receive the best service from the professional Cincinnati gold buyers at Hyde Park Rare Coin.
Cincinnati Rare Coin Galleries consists of four store locations, including the Hyde Park location in Cincinnati Ohio,co-founded by Michael Dickman and Joseph Barrett, which began with one store in September of 2001. Over the next four years, the partnership grew with the additions of Clayton Wallen, Taylor Fraley and Brad Dutro.
As experienced gold buyers, we stay up-to-date with the current prices for gold, giving you the best price for the Cincinnati coins value. We buy all types of U.S. and foreign coins and currency. You will receive Cincinnati cash for gold, dental gold and bullion. Besides being gold buyers, we also engage in silver buying, mint sets, confederate money and estate coins.
We offer a free appraisal for your coins, gold, silver, and diamonds. We also engage in the buying and selling of foreign currency. With our store based in Cincinnati, Ohio, we are professional Cincinnati gold buyers interested in giving Cincinnati cash for gold. We are also interested in silver buying and selling. We appraise all coins and currency so that you will receive the best price you won't get from our competitors. Whether you are interested in selling or buying items, we will professionally appraise your coins and quote you a price that you will love.
Address: 3922 Edwards Rd, Cincinnati, OH 45209
Phone: (513) 731-1700
Website: http://www.cincinnaticoinsvalue.com
Email: hydeparkrarecoin@gmail.com
Hours:
Mon – Fri 10:00 am – 4:00 pm
Sat 11:00 am – 4:00 pm
Sun Closed