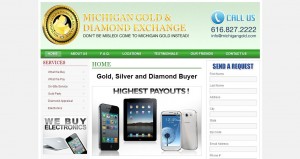 Michigan Gold and Diamond Exchange address, phone, website, hours of operation, and more.
Founded in 2008 in response to skyrocketing gold prices, Michigan Gold and Diamond Exchange is dedicated to helping you get the most money possible for your precious items. Based in Grand Rapids, Michigan, Michigan Gold has helped thousands of people get top dollar for their gold, silver, diamonds and jewelry. We specialize in educating our customers on what the true value of their jewelry is.
Our tailored approach to consulting customers comes from being tired of seeing pawnshops only paying you 10% of the real value. However, we couldn't stop there, we also started learning everything we could about buying and selling gold, silver, platinum and rare coins. Our volume speaks for itself and truly is the reason we can offer you more for your gold than any other place around. Our worldwide network ensures that we can get you the money you deserve for your precious metals and gemstones. You'll never need to go anywhere else again!
Address: 1656 44th St SE, Grand Rapids, MI 49508
Phone: (616) 827-2222
Fax: (616) 827-2226
Website: http://michigangold.com
Email: info@michigangold.com
Hours:
Mon – Fri 9:30 am – 6:30 pm
Sat – Sun 10:00 am – 5:00 pm