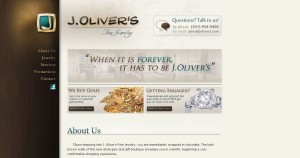 J Oliver's Fine Jewelry address, phone, website, hours of operation, and more. Upon stepping into J Oliver's Fine Jewelry, you are immediately wrapped in chocolate. The lush brown walls of this new-style gem and gift boutique envelope you in warmth, beginning a very comfortable shopping experience.
After friendly greetings from the staff, you begin your search for treasure in the glowing cases of fine jewelry and watches. And what treasures there are! Bulova Accutron time pieces. Fine gemstones in every hue. Sparkling diamonds from classic to au courant. Funky and fabulous colorful fine jewelry made on site to insure one of a kind. Designer silver jewelry from Phillip Gavriel and William and James. Enough pearls to outfit a bevy of bridesmaids. Glowing glass giftware.
Whether you are dressed in shorts or Chanel, you are welcome at J Oliver's. The vision of owners Tim Benton and John Oliver Davis was to create a store like no other — welcoming and personal. Both established wholesalers in the fine jewelry industry, they bring to west Little Rock their years of research in customer preferences and their knack for searching out personal ornaments you will see nowhere else. They have done just that in a handy location on Bowman Curve.
Address: 400 N Bowman Rd (Bowman Curve), Little Rock, AR 72211
Phone: (501) 954-9400
Fax: (501) 954-9404
Website: http://www.jolivers.com
Email: tim@jolivers.com
Hours:
MonClosed
Tue – Fri 10:00 am – 5:30 pm
Sat 11:00 am – 5:00 pm
Sun Closed