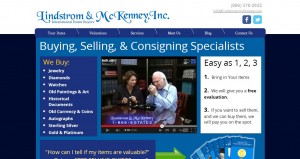 Lindstrom & McKenney address, phone, website, hours of operation, and more. Debra and Bill Williams founded Lindstrom & McKenney in 2000 to provide people and their families with solutions to estate decisions.
For over 40 years Bill Williams, a GIA graduate gemologist, assisted some of the wealthiest families in the world with personal property sales. Bill is an accomplished author and served as an estate appraiser for the IRS Detroit Region for many years.
Debra Williams, a trusted former attorney and lecturer on managing estates helped many clients with trust, estate, personal, and business matters that often focused on valuable personal property.
Debra and Bill Williams have assisted thousands of individuals, estates, jewelers, bankers, and trust attorneys by pricing or purchasing millions of dollars in valuable items. Today, there are three family generations and numerous Estate Specialists on hand with extensive experience in evaluating items, listening and providing perfect solutions to assist you, your family, or your company in your time of need.
Address: 2821 N Ballas Rd, Saint Louis, MO 63131
Phone: (314) 567-4241
Website: http://www.lindstrommckenney.com
Hours:
Mon – Fri 9:30 am – 5:00 pm
Sat 10:00 am – 2:00 pm