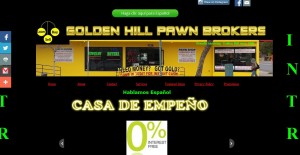 Golden Hill Pawnbrokers address, phone, website, hours of operation, and more. At Golden Hill PawnBrokers we take pride in providing the best possible service to the public. We have proudly served the area of Golden Hill for over 30 years! As a full service pawn shop, we specialize in collateral loans, buying of goods, and selling of goods to the public at wholesale prices.
At Golden Hill PawnBrokers, we understand that life can  bring you unexpected stresses and expenses. For this reason, we do our very best to treat every customer as a special circumstance to help ease these financial stresses.
When leaving your valued possessions with us for loan in your time of need, we want to make sure you are comfortable with the process.  With our recent remodel to the store, we have upgraded all security measures in order to provide the safety and security of your possessions. We are fully licensed and insured. If there are any doubts whatsoever, we encourage you to let us provide you with special packaging of your possessions. This includes your signature or thumb print as a  seal to assure your items will be in the same condition as they were when you left them with us.
Address: 1038 25th St, San Diego, CA 92102
Phone: (619) 234-5388
Website: http://www.goldenhillpawnbrokers.com
Email: goldenhillpawnbrokers@hotmail.com
Hours:
Mon – Fri 10:00 am – 6:00 pm
Sat 10:00 am – 5:00 pm
Sun Closed