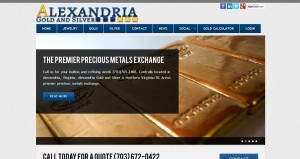 Alexandria Gold and Silver address, phone, website, hours of operation, and more. At AGS we believe in word of mouth advertising so you will not see us on TV, radio or billboards. Unlike our competitors we value you more than we do the gold. At AGS you are not just another transaction. We believe in developing professional relationships with every client. We therefore strive to make your experience the best in the industry by providing the highest level of professional service at unbeatable prices.
Nothing is more important to us than your satisfaction. If there is any way that we can serve you better please do not hesitate to call or write, if our service exceeded your expectations please tell your friends. Thank you for choosing Alexandria Gold and Silver for your all of your precious metals needs.
We are dedicated to offering the most competitive prices on your jewelry, coins, and bullion. We specialize in the buying and selling of precious metals in all forms, including bullion, coins, scrap gold jewelry, industrial silver scrap, photo silver, Mint Bars, 90% US Silver, Canadian and foreign silver. We understand that your possessions have financial and emotional meaning to you, and we offer set prices with no pushy tactics. Feel free to come in for an appraisal just to compare with other places.
Address: 6911 Richmond Hwy Suite 310, Alexandria, VA 22306
Phone: (703) 672-0422
Website: http://www.dawnassets.com
Email: sales@dawnassets.com
Hours:
Mon – Fri 9:00 am – 6:00 pm
Sat 10:00 am – 2:00 pm
Sun Closed