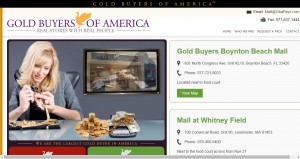 Gold Buyers of America address, phone, website, and more. Are you looking for a real store with real people and a convenient way to get the best price for your old unwanted gold, silver and platinum jewelry? Then look no further than your local Gold Buyers of America Mall Store!
At our locations, a certified metals analyst will evaluate your metals right in front of you, as well as educate you on the process. You'll then be paid top dollar for your metals right on spot!
At Gold Buyers of America, we believe that our customer's needs are of the utmost importance. Our team is committed to meeting those needs and as a result, a high percentage of our business is from repeat customers and referrals. We want you to be comfortable with the process as well as the price.
Because at Gold Buyers of America, we understand that you aren't just selling pieces of metal, but pieces of memories. Gold Buyers of America offers many ways for you to sell your gold, silver, and platinum items and our goal is to make selling your unwanted jewelry a comfortable and safe process.
Address: 495 Union St, Waterbury, CT 06706
Phone: (203) 756-2556
Website: http://goldbuyersofamericalocations.com