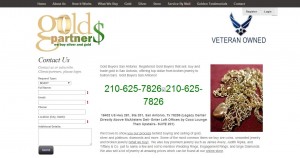 Gold Partners address, phone, website, hours of operation, and more.
Our company, Gold Partners, is co-owned and operated by Stan Sweeney and San Antonio native Liz Montez. We believe in treating our customers with respect and fairness.  Our goal is to create an atmosphere where customers will feel comfortable and understand what is involved in the process.
Come visit us. We are located just south of downtown San Antonio, in a recently renovated registered historic landmark.
Address: 18402 US 281 N, Suite 201, San Antonio, TX 78259
Phone: (210) 488-3092
Website: http://www.goldbuyerssanantonio.net
Email: Stan@bestgoldpartners.com
Hours:
Mon – Thu 10:00 am – 6:00 pm
Fri 10:00 am – 4:00 pm
Sat – Sun Closed