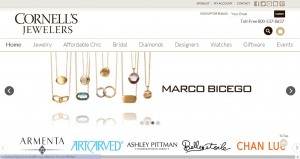 Cornell's Jewelers address, phone, website, hours of operation, and more.
For three generations, Cornell's Jewelers have been keeping romance alive! How do we do it? By selling diamonds, jewelry and watches that satisfy the professional eye as well as the eye of anyone who walks into our store. The Cornell family knows quality and value, and would never sell a diamond, jewelry or a watch that doesn't meet our personal grade. In fact, less than 1-percent of the diamonds presented to us at Cornell's actually make it into our store. Of course, even a perfect diamond is just a shiny rock without a great setting. That's why we take such care to craft settings that compliment the individual character of each diamond, with an end result that is simply stunning. at Cornell's Jewelers. We work hard so that you get so much more!
Cornell's Jewelers features other well know designs like Tacori, Hearts on Fire, Ritani, Jeff Cooper, Marco Bicego and Gurhan. Visit our exclusive John Hardy Boutique featuring Bali-based designs with chic and organic jewelry. We also feature a Timepieces boutique; Affordable Chic boutique… whatever you're looking for you can find it at Cornell's Jewelers.
Cornell's Jewelers brings nationwide excellence to the Rochester and upstate New York area. Cornell's Jewelers is certified member of the American Gem Society. Twice we were ranked by the New York State Jewelers Association as New York State's Favorite Jewelry Retail Store, and Harper's Bazaar calls us a leader in jewelry for our beautiful merchandising and our outstanding customer service. We were rated 2nd in the nation by INSTORE Magazine's "Coolest Jewelry Store" contest. When you come to Cornell's, you're getting the best of the best – of the country, not just the Rochester area.
Address: 3100 Monroe Ave, Rochester, NY 14618
Phone: (585) 264-0100
Website: http://www.cornellsjewelers.com
Email: marketing@cornellsjewlers.com
Hours:
Mon 10:00 am – 6:00 pm
Tue 10:00 am – 8:30 pm
Wed 10:00 am – 6:00 pm
Thu 10:00 am – 8:30 pm
Fri 10:00 am – 6:00 pm
Sat 10:00 am – 5:30 pm