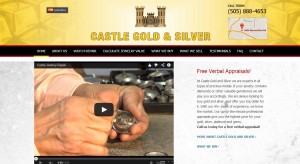 Castle Gold and Silver address, phone, website, hours of operation, and more.
At Castle Gold and Silver we are a family owned and operated business with over 40 years experience in the precious metals business, and our team has over 100 years combined experience in watch and jewelry repair. We strive to always give you the benefit of our extensive experience and commitment to fast and friendly customer service.
When you do business with us, you can be certain you will receive top-dollar for your precious metals. That is our commitment to you. There is a reason we have been providing quality service for over 40 years – we always treat you fair! We value each and every relationship that we build with our customers. We are committed to making you a satisfied customer who will make Castle Gold and Silver the only place to do business!
Address: 5606 Menaul Blvd NE, Albuquerque, NM 87110
Phone: (505) 888-4653
Website: http://castlegoldandsilver.com
Email: office@castlegoldandsilver.com
Hours:
Mon – Fri 10:00 am – 5:00 pm
Sat – Sun Closed