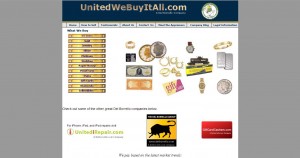 UnitedWeBuyItAll address, phone, website, hours of operation, and more. Located in the heart of Philadelphia, United Financial has been one of the most reliable financial institutions in the greater Philadelphia region since 1976.
As a family owned and operated business, United has served the local community with the utmost customer satisfaction. United is also recognized for its local, state, and national charitable contributions.
Now, with over 30 years experience, United presents UnitedWeBuyItAll.com. United WeBuyItall.com is an innovative company designed to connect buyers and sellers all over the world with fast and easy access to official ANA certified coin graders and appraisers.
Our certified staff is specialized in coins, paper money, collectibles, precious gems and metals, antiques, trains and more. Our staff of appraisers will give you the highest market value for your items and are available for consultation 24 hours a day, seven days a week.
United has also been chosen by law firms and financial companies for numerous independent appraisals.
Customer satisfaction is UnitedWeBuyItAll.com's number one goal. That is why we offer better service, faster payment, and higher appraisals than any other competitor. Give us a try and we know you'll be happy with our service.
Address: 1123 South Broad Street, Philadelphia, PA 19147
Phone: (215) 468-4200
Website: http://www.unitedwebuyitall.com
Email: unitedwebuyitall@yahoo.com
Hours:
Mon – Fri 9:00 am – 6:00 pm
Sat 9:00 am – 5:00 pm
Sun 10:00 am – 5:00 pm