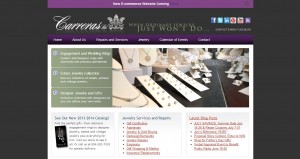 Carreras Jewelers address, phone, website, hours of operation, and more. As a purveyor of fine jewelry for over 45 years, Carreras Jewelers is committed to providing honest, highly knowledgeable, creative and unparalleled service.
Specializing in one of a kind Estate pieces, diamonds, fine gold, sterling silver, color gemstones and pearls, Carreras always has the perfect gift to celebrate every life event. Carreras also provides detailed appraisals for insurance purposes, jewelry redesign, repair services and jewelry buying.
Located in the heart of traditional Richmond in the historic Libbie and Grove shopping district, Carreras welcomes new and familiar faces.  Enjoy a taste of Richmond by spending your day shopping on the avenues of Libbie and Grove and let the expert staff at Carreras teach you about making affordable, educated jewelry decisions.
Address: 121B Libbie Ave, Richmond, VA 23226
Phone: (804) 282-7018
Website: http://www.carrerasjewelers.com
Email: sallyashby@carrerasjewelers.com
Hours:
Tue 10:00 am – 4:30 pm
Thu – Fri 10:00 am – 4:30 pm