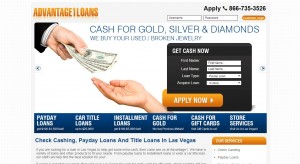 Advantage 1 address, phone, website, hours of operation, and more.
At Advantage 1, our mission is to make your loan application process easy, get you the money you need as fast as we can, and ensure your entire loan experience is a friendly one. That is our commitment to you.
Advantage 1 is proud to be a state licensed direct lender. What does that mean to you? Well, instead of making you work with a third party, we process your loan application and we also fund your loan directly (unlike other online lenders). Our short-term cash loans are also different from traditional bank loans. You don't have to fill out extensive paperwork, there's no long-term commitment, and we'll work with you even if you have bad credit. The next time you're in a cash crunch, think of Advantage. Our payday advances and installment loans can tide you over until your next paycheck, and if you need more cash than a payday or installment loan our title loans may lend more cash.
Advantage 1 offers cash loans to customers with bad credit everyday. We say "Yes", when others say "No". Our approval rates are some of the highest in the industry. You can apply for a Cash Advance, *Payday Loan, Auto Title Loan, Title Equity Loan, Smart Loan online, by phone or at one of our convenient store locations in Nevada.
Address: 547 E Sahara Ave, Las Vegas, NV 89104
Phone: (702) 734-7135
Website: http://www.advantage1loans.com 
Email: info@advantage1loans.com
Hours:
Mon – Fri 9:00 am – 6:00 pm
Sat 10:00 am – 7:00 pm
Sun 9:00 am – 3:00 pm