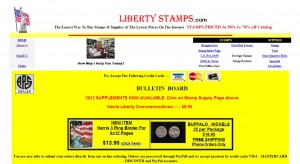 Liberty Stamps address, phone, website, hours of operation, and more. Liberty Stamps is owned and operated by Vince C. Dorazio in Minneapolis, Minnesota. I have been in sales since the mid 1960's and owned an Office Furniture Business. I started out as a part-time mail order stamp dealer in the mid 1980's and attended stamp shows.
I became a full-time stamp dealer and incorporated Liberty Stamp and Coin Supply, Inc. in 1991. While we carry an ample supply of both Stamp and Coin supplies, our main function is in stamps — primarily United States Inventory, plus a general variety worldwide stock.
I have been a proud member of the American Philatelic Society since 1988. Please browse our stamp and supply pages. If you do not see what you are looking for, please advise us and we will do our best to get what you need for your collection.
Address: 6253 Penn Ave S, Minneapolis, MN 55423
Phone: (612) 243-9411
Website: http://www.libertystamps.com
Email: Vincent@LibertyStamps.com
Hours: Mon – Sat 11:00 am – 5:00 pm