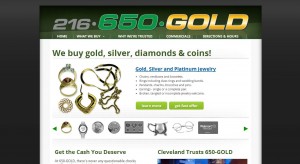 650 Gold address, phone, website, and more. At 650 Gold, there's never any questionable checks you'll need to cash, high-pressure salespeople, or sleazy tactics.
Simply bring your unwanted jewelry, silverware, coins or gift cards to one of 650 Gold's convenient Northeast Ohio locations.
We'll examine your items right in front of you and quote you a fair, honest price. If you accept our offer, you'll walk away with cash in hand – and the satisfaction of having been treated with the respect you deserve. After all, you treat others with honesty and respect, and now that you're in need of some extra money, you deserve to be treated the same way.
Address: 16933 Chagrin Blvd, Cleveland, OH 44120
Phone: (216) 650-4653
Website: http://www.650gold.com