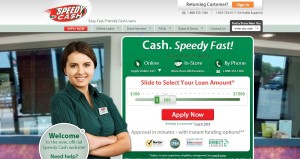 Speedy Cash address, phone, website, and more.
"Easy, fast and friendly." What better way to describe the Speedy Cash experience? Whether you visit a store, apply for a loan online, or speak to one of our phone representatives we'll make sure your loan application process is easy, you get your money fast, and you experience friendly customer service – every time.
When it comes to your money, Speedy Cash means business. We understand that you may be in a tough situation, and we're here to get cash in your hands quickly. That's why Speedy Cash offers three convenient ways to apply for a loan – so you can choose the solution that works best for you! Whether you need quick cash in an emergency or your budget simply fell short, our easy, fast cash loans have you covered.
As one of the few state-licensed direct payday loan lenders, Speedy Cash not only processes your application but we also directly fund your loan. As a trusted lender since 1997, we pride ourselves on providing critical funds to hard-working people who may simply need a little help from time to time. Speedy Cash loans are different from the services offered at traditional financial institutions. There's no long application process, no long-term commitment, and bad credit is okay. If you're in a bind and need cash fast, Speedy Cash is here for you – whether you need a cash advance to hold you over until payday, an installment loan that you can gradually pay back, or a title loan to borrow a higher dollar amount.
Address: 1503 N Story Rd #100 , Irving, TX 75061
Phone: (972) 346-1599
Website: http://www.speedycash.com