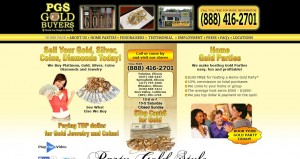 PGS Gold Buyers address, phone, website, hours of operation, and more. PGS Gold Buyers, since making our inception in January 2008, has become one of the most professional and trusted gold buyers in the Chicagoland area. In fact, our company is locally owned and operated in Palatine, Illinois. PGS is a gold exchange company that was started with the goal of providing consumers a trusted, safe and convenient way to sell their unwanted gold, platinum, coins, diamonds, and silver for cash. We maintain a courteous staff of certified gold buyers and event planners that are ready to assist you. And with our "No Pressure" environment, you'll enjoy a stress-free way to sell your unwanted gold, platinum, coins, diamonds and silver when we deliver a professional, no-obligation appraisal with no pressure to sell.
Party Gold Style!, our home gold party program, has had enormous growth with the recent widespread news coverage of hosting your own home gold party. Party Gold Style! hosts fun social events where you come with gold and leave with cash. One of our Gold Buying Specialists will come to your home with all equipment needed to buy your gold.
Gold Style Events!, our corporate event and fundraising program, offers a unique and exciting way to raise money for your favorite charity. With today's economy fundraising is tough; and Gold Style Events! is the perfect solution! Tell your guests to leave their wallets at home for this event! We will pay top dollar cash to your guests and we will donate 15% of our total payout of the event directly to your designated charity!
Address: 1914 N Grand Ave E, Springfield, IL 62702
Phone: (217) 793-1600
Website: http://www.pgsgoldbuyers.com
Email: info@pgsgoldbuyers.com
Hours:
Mon – Fri 9:00 am – 7:00 pm
Sat 9:00 am – 5:00 pm
Sun 9:30 am – 3:00 pm