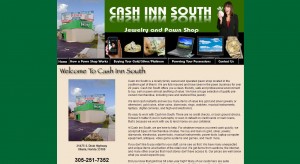 Cash Inn South address, phone, website, and more. Cash Inn South is a locally family owned and operated pawn shop located in the southern part of Miami. We are fully insured and have been in the pawn business for over 20 years. Cash Inn South offers you a clean, friendly, safe and professional environment to buy, sell or pawn almost anything of value. We have a huge selection of quality pre-owned merchandise, including new and restored fine jewelry.
We lend cash instantly and we buy many items of value like gold and silver (jewelry or otherwise), gold coins, silver coins, diamonds, rings, watches, musical instruments, laptops, digital cameras, and high-end electronics.
It's easy to work with Cash Inn South. There are no credit checks, or back ground checks, it doesn't matter if your in bankruptcy or even in default on credit cards or bank loans, that's because we work with you to lend money on your collateral.
At Cash Inn South, we are here to help. For whatever reason you need cash quickly, we accept all types of merchandise of value. We buy and loan on gold, silver, jewelry, diamonds, electronics, power tools, musical instruments, power tools, laptop computer equipment, antiques, video game systems and games, and much more.
If you don't like to pay retail for your stuff, come see us first. We have many unexpected and unique items at a fraction of the retail cost. We get items from auctions, the internet, and many other sources that most stores don't have access to. Our prices are well below what you would expect to pay.
Did you know that gold has hit a ten-year high? Many of our customers are quite surprised at just how much their old gold is worth. Who knows if gold will keep escalating in value, so now is a great time to cash in. Broken or unwanted gold can get you a few hundred dollars. Who couldn't use an extra few hundred dollars?
So, if you need cash or a cash loan, look no further. Contact us today. We provide quick and confidential loans with NO credit check! We have been in business for over 20 years and provide a friendly alternative source of funds for any need.
Address: 21475 S Dixie Hwy, Miami, FL 33189
Phone: (305) 251-7352
Website: http://www.cashinnsouthinc.com
Email: motox833@aol.com