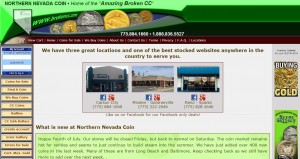 Northern Nevada Coin address, phone, website, hours of operation, and more. Northern Nevada Coin began in Reno August of 1993. After five years Northern Nevada Coin moved its headquarters to Carson City. In April of 2011 we opened our second location in Reno. We were constantly being asked if we had one, and so to better serve Reno and Sparks we opened in the Costco shopping center on Plumb. The reputation of our gold buyers is 'golden'. If you have gold to sell make sure you see the area's leading gold buyer. We are now centrally located in Carson City and Reno. Also serving Sparks, Lake Tahoe, Incline, Fernly, Truckee, Fallon, Minden, Gardnerville and other outlying areas, we strive to bring you the best in numismatics and fairness when selling gold.
We are not a nameless, faceless company. We are real people in Nevada doing coin business day in and day out. You can come to our showrooms in Carson City or Reno and talk face to face with us at any time. Many of the websites out there are home-based people that may or may not be there for you if a problem arises. To learn more about our friendly staff and who we are click here.
At Northern Nevada Coin we realize your privacy is important to you. All transactions are kept confidential. What does this mean? Well, we'll never ever ever sell your name, address, or phone number to anyone. Those telemarketers and spammers won't bother you because of us. We treat your privacy with the respect and value it deserves.
Here at Northern Nevada Coin we deal in rare coins and gold. We specialize in all Carson City coins, all silver dollars, US gold coins from 1795-1933, rare or key date type coins, and high grade US coins. Coins we especially like to buy are Carson City coins, C and D mint gold, rare O and S mint issues in gold, high relief's, territorial gold, and high grade gold in all denominations. We also want to buy all major silver dollar errors. If you are into coins or have a collection to sell and live any where close to us you will be happy if you give us a visit. For our locals looking to sell gold, our gold buyers are the best around. See our gold buyers today if you are looking to sell. We have gold buyers in Reno, Minden, and Carson City.
Our mission is to serve our community with knowledge and expertise. This benefits all of us in Carson City, Reno, Sparks, Minden, Gardnerville, Lake Tahoe, Fallon, Virginia City and the rest of northern Nevada. We strive to not only serve our community with integrity, but also to create a destination for all coin collectors. Being located next to the Carson City mint, we aim to make your rare coin experience the best it can be when you visit Northern Nevada Coin. And our Reno location is central to all in Reno and Sparks as well as being close to the airport for those travelling through. As a local gold buyer, we strive to provide you knowledge and fairness. Our gold buyers are the best around and our 'golden' reputation is something we are proud of.
Address: 1280 E Plumb Ln, Reno, NV 89502
Phone: (775) 828-2646
Fax: (775) 828-2645
Website: http://www.brokencc.com
Email: info@brokencc.com
Hours:
Mon – Sat 9:00 am – 5:00 pm
Sun Closed