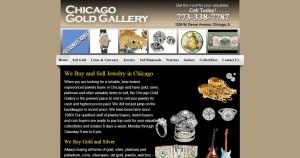 Chicago Gold Gallery address, phone, website, hours of operation, and more. When you are looking for a reliable, time tested experienced jewelry buyer in Chicago and have gold, silver, platinum and other valuable items to sell, the Chicago Gold Gallery is the premier place to visit to sell your jewelry for cash and highest prices paid. We did not just jump on the bandwagon in recent years. We have been here since 1980! Our qualified staff of jewelry buyers, watch buyers and coin buyers are ready to pay top cash for your valuable collectibles and estates 6 days a week, Monday through Saturday 9 am to 6 pm.
Always buying all forms of gold, silver, platinum and palladium, coins, silverware, old gold, jewelry, watches – we will separate the scrap gold items from the reusable better and re-sellable items and pay extra for them. This is why we are rated #1 gold buyer in Chicago
No appointment is necessary; our staff is ready to serve you and ensure you get the most for your valuables.
Address: 1236 W Devon Ave, Chicago, IL 60660
Phone: (773) 338-7787
Website: http://www.chicagogoldgallery.com
Email: chgogoldgallery@aol.com
Hours:
Mon – Sat 9:00 am – 6:00 pm
Sun Closed