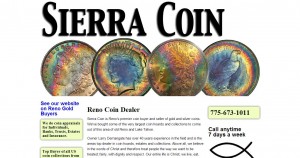 Sierra Coin address, phone, website, hours of operation, and more.
Sierra Coin is Reno's premier coin buyer and seller of gold and silver coins. We've bought some of the very largest coin hoards and collections to come out of this area of old Reno and Lake Tahoe.
Owner Larry Demangate has over 40 years experience in the field and is the areas top dealer in coin hoards, estates and collections. Above all, we believe in the words of Christ and therefore treat people the way we want to be treated; fairly, with dignity and respect. Our entire life is Christ; we live, eat, breathe and sleep this. We remain flexible in pricing coins and bullion so that you can be assured of the best price possible.
Address: 3100 Mill St, Reno, NV 89502
Phone: (775) 673-1011
Website: http://www.sierracoin.com
Hours: Appointments Available