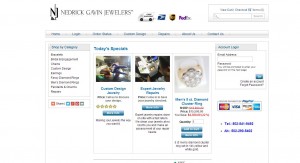 Nedrick Gavin Jewelers address, phone, website, hours of operation, and more.
Nedrick Gavin Jewelers was founded by and is led by a master jeweler who brings over 30 years of experience to bear. He has worked with the most prestigious jewelers in both the USA and Canada. He has created and crafted numerous custom pieces for clients over the years. He leads our team in delivering satisfaction and joy when you are presented with the perfect piece. Understanding the significance of your gift is the driving force behind his motivation to deliver to you the very best. His team takes pride in being a part of your special project, we understand what your gift is about.
Nedrick Gavin Jewelers now offers a wide range of services from general fine jewelry repairs to ring sizing, stone setting, pearl re-stringing and engraving. See our service page for more details. We offer custom designing and re-designing using your supplied materials to meet this ever growing sector the jewelry business. Your involvement throughout the process is welcome. Our mission is to make your day a perfect gem.
Address: 332 West Broadway 104, Louisville, KY 40202
Phone: (502) 541-9492
Fax: (502) 587-6128
Website: http://www.nedrickgavin.com
Email: info@nedrickgavin.com