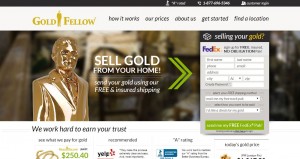 Goldfellow address, phone, website, and more. When you are looking for a gold buyer, you want to know the people who are testing and valuing your gold jewelry are experienced at what they do. When it comes to experience, GoldFellow has a "gold pedigree"!
Our founders Robin and Michael Gusky previously owned one of the largest manufacturers and distributors of karat gold jewelry in the United States for 30 years before selling to Warren Buffett's Berkshire Hathaway in 2007.
Our president, Steve Hansen has worked in the gold industry for over 25 years as have many of our long time employees like Mary in customer service and Jose in operations. For a real treat watch the video about our in-house jeweler, Robert who has nearly 50 years of gold industry experience!
Address: 16772 NW 67th Ave, Hialeah, FL 33015
Phone: (305) 821-2000
Website: http://www.goldfellow.com