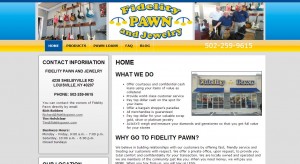 Fidelity Pawn and Jewelry address, phone, website, hours of operation, and more.
Fidelity Pawn and Jewelry is the product of a business plan conceived and implemented by Tim Holsclaw and Rich Robben. The result is an upscale, customer-oriented Pawn Shop focused on the needs of each individual customer, many of whom have never experienced the benefits of doing business with a Pawn Shop.
Our mission is to develop long term customer relationships. We do this every day by educating customers about the financial benefits of pawning versus late payment fees, NFS bank fees and potential damage to personal credit ratings. Fidelity Jewelry and Pawn has the funds available to make short term collateralized loans to individuals and provide small business owners, just like us, with larger loans to meet any cash flow needs. Fidelity Pawn and Jewelry is a proud member of the Louisville Independent Business Owners Association and the BBB.
Address: 4238 Shelbyville Rd, Louisville, KY 40207
Phone: (502) 259-9615
Website: http://fidelitypawn.com
Email: Richard@fidelitypawn.com
Hours:
Mon – Fri 9:00 am – 7:00 pm
Sat 10:00 am – 6:00 pm
Sun Closed