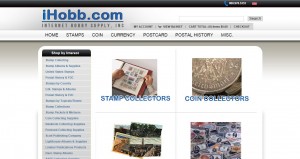 Internet Hobby Supply address, phone, website, hours of operation, and more. At iHobb.com we have built the most complete source for collectors based on a commitment to customer service and by passing the savings of an internet store to our customers.
Our beginnings were modest as we explored this new concept of 'ecommerce'. What we have found is a large need for our services as more and more collectors discover the ease, and economy, of Internet shopping.
Today we occupy a 3,000 sq ft warehouse in the Oceanside Gateway Business Park. This space allows us a large retail sales area, and also adequate room for a large inventory to meet our customer's requests for prompt shipment.
Collectors Welcome! Beside the local collector community, we get many visits from internet customers on vacation in Southern California. If you need supplies and are in the Oceanside (San Diego) Area, please stop by. The warehouse is open Monday through Thursday from 9:00 am to 4:00 pm. Fridays and weekends we spend at stamp shows building the inventory.
Address: 1664 Ord Way, Oceanside, CA 92056
Phone: (760) 724-2332
Website: http://ihobb.com
Email: sales@ihobb.com
Hours:
Mon – Fri 9:00 am – 4:00 pm
Sat – Sun Closed