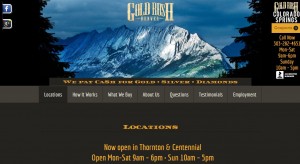 Gold Rush address, phone, website, hours of operation, and more.
Welcome to Gold Rush where "cash is king"!!  We are not a pawn shop. We are your friendly neighborhood Gold & Silver Buyers.
We have worked extremely hard to create a comfortable, safe and discreet environment for our friends and customers to exchange their Gold & Silver for cash. Expect professional service because this is what you will receive. Our Specialists are committed to serving you and answering all of your questions. Please feel free to bring in anything. If we can't make an offer on your items, we will certainly recommend other options.
Address: 1664 S Broadway, Denver, CO 80210
Phone: (303) 282-4651
Website: http://www.goldrushdenver.com
Email: coloradogpm@gmail.com
Hours:
Mon – Sat 9:00 am – 6:00 pm
Sun 10:00 am – 5:00 pm