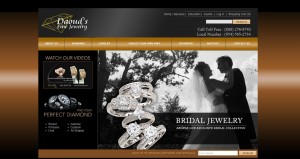 Daoud's Fine Jewelry address, phone, website, hours of operation, and more. Located in Ft. Lauderdale, Florida, Daoud's Fine Jewelry sets the benchmark for distinctive jewelry and unparalleled customer service through their exceptional and educated staff.  Opening their first store in Atlantic City in 1895, it was Daoud's expansive collection of jewelry, ranging from one-of-a-kind antique pieces to rare and flawless diamonds, coupled with their genuine customer care that made them a premiere jewelry destination.  Over a century later, Patrick Daoud carries on the family tradition and upholds the same values in their sole South Florida location.
Transplanting from New Jersey to Florida in the 1930's, Daoud's celebrated many successes through the Miami Beach area, including a Ft. Lauderdale location opened by Louis Daoud in 1960. The store was so popular that a second store was open, which is the Daoud's we know today.  Now just one block from its original location on Sunrise Boulevard, the new 6,100 square-foot store, opened in October 2010, pays tribute to its Daoud's Fine Jewelry predecessors with its old-world charm and welcoming vibe.  The store caters to the trends of today, while remembering the glitz and glamour of decades past with their rare collection of antique jewelry.
With a century worth of industry expertise, Daoud's has had a front row seat to the evolution of the jewelry industry. As a fourth generation Daoud, Patrick understands the importance of his evolving with his customers' wants and needs and continues to adapt his store, processes and offerings to appeal to and reinvigorate his clientele.  Daoud's staff that sets the store apart from its competition.  From expert gemologists to jewelry enthusiasts, each Daoud's employee is dedicated to the customer experience, going above-and-beyond to find the perfect piece of jewelry for any special occasion. This is why Daoud's customers continue to come back year after year, from all over the world.
Address: 2473 E Sunrise Blvd, Fort Lauderdale, FL 33304
Phone: (954) 565-2734
Website: http://www.daouds.com
Email: info@daouds.com