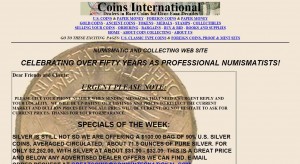 Coins International address, phone, website, and more. We are long-time professional numismatists with a wide range of experience and knowledge of coins and other items of many countries and ages. We started this family business in 1955 and have been serving customers with integrity ever since. Not many dealers can boast that kind of longevity.
We are mail order dealers, meaning that we do business via mail and not via a store. We buy from and sell to individuals from around the world. We have purchased and visited Asia and Europe in our search for fine coins for our customers. Our expertise is at your service when you buy or sell from us. We travel actively in search of the finest coins and other items, so we may be slow in getting back to you from time to time if you have questions, but when we do you will have our full attention.  We can travel to you if you want to sell important coins or a collection.
Unlike some dealers, we also have an extensive stock of Canadian, foreign coins and paper money as well as medals and tokens. We also specialize in quality ancient coins. These include Greek, Roman, Byzantine and Medieval coins in gold, silver and bronze. We also offer stamps and related items.  Please note that all our stock is kept in bank vaults and we cannot show clients our stock if they wish to visit us, except by advanced prior arrangement.
Address: P. O. Box 5545 Washington, DC 20016
Phone: (202) 363-0306
Website: http://www.coinsinternational.com
Email: greatcoins@coinsinternational.com