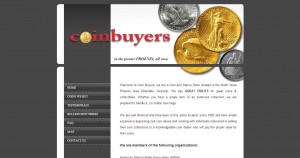 Coin Buyers address, phone, website, hours of operation, and more.
Welcome to Coin Buyers, we are a Coin and Stamp Store located in the North West Phoenix area (Glendale, Arizona). We pay great prices for great coins & collectibles. Whether you have a single item or an extensive collection, we are prepared to handle it, no matter how large.
We are well financed and have been in this same location since 1983 and have ample experience appraising rare coin values and working with individuals interested in selling their coin collections to a knowledgeable coin dealer who will pay the proper value for their coins.
Address: 6342 W Bell Rd, Glendale, AZ 85308
Phone: (623) 533-3581
Website: http://www.usacoinbuyers.com
Email: info@usacoinbuyers.com
HOurs:
Mon – Sat 9:00 am – 5:00 pm
Sun Closed