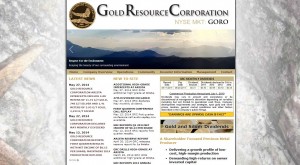 Gold Resource Corporation address, phone, website, and more.
Gold Resource Corporation is a gold producer targeting projects that feature low operating costs and high returns on capital. The Company's primary focus is on cash flow, with a priority to return meaningful dividends back to the owners of the Company, its shareholders. The Company's "Oaxaca Mining Unit" consists of 100% interest in 6 potential high-grade gold and silver properties in the southern state of Oaxaca, Mexico.
GORO successfully declared commercial production July 1, 2010 from a shallow, high-grade open pit at its El Aguila project, which enabled the Company to reach production and cash flow in the shortest amount of time with one of the tightest capital structures for a producer.  In March of 2011, GORO announced production from its polymetallic La Arista vein system. The Arista deposit has high-grade gold and silver as well as the base metals of copper, lead and zinc.  The Arista deposit remains open on both strike and at depth.  The Company targets the extensions of this deposit and is exploring for additional deposits at its Oaxaca Mining Unit to add to its production profile.
The Company's growth profile targets production of its gold and silver mineralization as precious metal gold equivalent, while using industry standard base metal by-product credits of copper, lead and zinc to position GORO among the low-cost producers.
GORO is proud to have declared its initial $0.03 per/share per month cash dividend July 31, 2010, just 30 days after declaring commercial production. The Company has distributed consecutive monthly dividends since commercial production totaling over $81 million as of May, 2013.  The Company targets long-term dividend distributions of approximately 1/3 of its Cash Flow from Mine Site Operations (CFMSO).  In 2011 the Company returned 30% CFMSO and in 2012 it returned 39% CFMSO to shareholders.
Mexico is one of the leading venues for mineral potential and has a 500 year history of mining. GORO has secured a sizeable and dominant land position along a geologically important "North 70 West" structural corridor in Oaxaca. The Company is building an exciting geologic model around this corridor with numerous epithermal exploration targets including open pits and veins with skarn and/or porphery potential.
Address: 2886 Carriage Manor Pt, Colorado Springs, CO 80906
Phone: (303) 320-7708
Fax: (303) 320-7835
Website: http://www.goldresourcecorp.com
Email: gregpatterson@goldresourcecorp.com