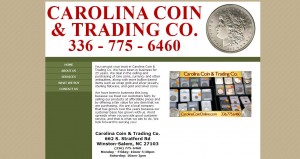 Carolina Coin & Trading Co address, phone, website, hours of operation, and more.
You can put your trust in Carolina Coin & Trading Co. We have been in business for 25 years. We deal in the selling and purchasing of rare coins, currency and other antiquities, along with more bullion based items such as scrap gold and silver jewelry, sterling flatware, and gold and silver coins.
We have been in business this long because we treat our customers fairly by selling our products at affordable prices and by offering a fair value for any item that we are purchasing. We are a local company that has grown over the years because our customer base has grown with us. Word spreads when you provide good customer service, and that is what we aim to do. We look forward to serving you!
Address: 662 N Stratford Rd, Winston Salem, NC 27104
Phone: (336) 775-6460
Website: http://www.carolinacoinonline.com
Email: scott@carolinacoinonline.com
Hours:
Mon – Fri 10:00 am – 5:30 pm
Sat 10:00 am – 2:00 pm