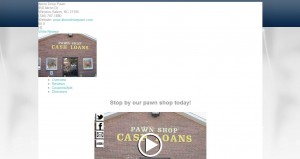 Akron Drive Pawn address, phone, website, hours of operation, and more. The entire staff at Akron Drive Pawn is quick, to-the-point, and courteous. Their honest policies and business practices keep clients coming back year after year! Why risk being ripped off by the countless cash-for-gold advertisements that flood your radio and television set? Stop by Akron Drive the next chance you get and receive the best gold price available. Simply put, Akron Drive Pawn is the finest pawn shop currently serving all of Winston-Salem!
Even if separate services offer you unbelievable value for your precious metals, you'll eventually see your return consumed by hidden fees and taxes. Luckily, the folks at Akron Drive Pawn will give it to you straight. When it comes time to trade in your precious metals and gold, save time and money by heading straight to Akron Drive. You're not going to track down a better gold price in all of Winston-Salem!
When customers come in to sell their unused or unwanted gold, we always give them a fair gold price. We are honest and trustworthy to do business with. You can count on receiving the best deal possible when working with Akron Drive Pawn Shop. Our gold prices are always based off of the current market price and we give our customers great deals.
Gold prices are always changing. That's why we watch the market price closely to be able to offer our customers a fair deal every day. Whenever you come in to Akron Drive pawn shop, you will receive an accurate and fair gold price for your trade. We have a reputation in the Winston-Salem community for being a reputable place to sell unwanted gold. We hope to keep this reputation alive by always being upfront with our clients and continuing to offer an honest business.
Address: 650 Akron Dr, Winston-Salem, NC 27105
Phone: (336) 767-1880
Website: http://akrondrivepawn.com
Hours:
Mon – Fri 9:00 am – 6:00 pm
Sat 9:00 am – 2:00 pm